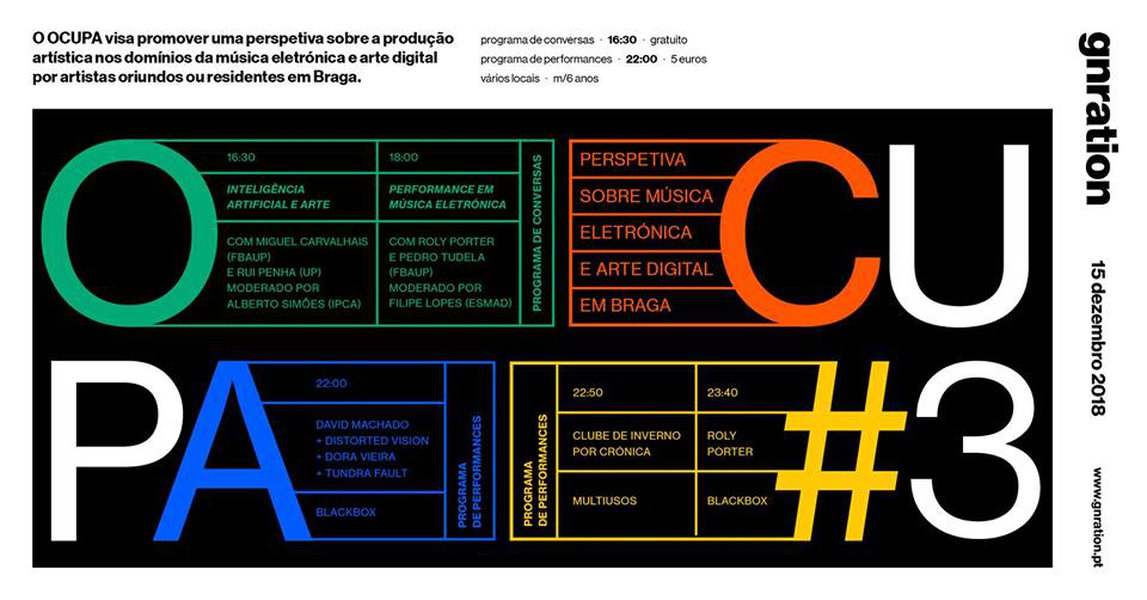 In recent years the city of Braga has taken a leading position in the field of media arts in Portugal, consolidated by the UNESCO designation of Creative City and legitimized, among others, by the international success of the festival SEMIBREVE, by the historical Encontros da Imagem, the gnration's artistic and formative offer and the growing number of artists operating in this area.
OCUPA, an event promoted by the AUAUFEIOMAU cooperative with the support of the Braga City Council and gnration, aims to promote a perspective on artistic production in the fields of electronic music and digital art by artists from Braga, a vital component for the full affirmation of Braga as a reference city in the media arts.
For its third edition OCUPA opens the door to an international guest, the British Roly Porter, who will join us with two shows based on the participation of local artists: a joint act along with David Machado, Dora Vieira and Tundra Fault with visuals by Distorted Vision, and the final presentation of 'Clube de Inverno' (Winter Club), this year led by the Porto label Chronicle. Another novelty will also be a talk program on the relationship between technology, art and performance, with the participation of artists and academics.

SCHEDULE
TALKS
16:30 – Artificial Intelligence & Art
Miguel Carvalhais (FBAUP), Rui Penha (ESMAE)
Moderator: Alberto Simões (IPCA)
18:00 – Performance in Electronic Music
Roly Porter, Pedro Tudela (FBAUP)
Moderator: Filipe Lopes (ESMAD)
PERFORMANCES

22:00 – David Machado + Distorted Vision + Dora Vieira + Tundra Fault – blackbox (gnration)
22:50 – Clube de Inverno, by Crónica – multipurpose room (gnration)
23:40 – Roly Porter Show – blackbox (gnration)

The performance program will cost 5€ and will be lined up at various locations in the gnration space.