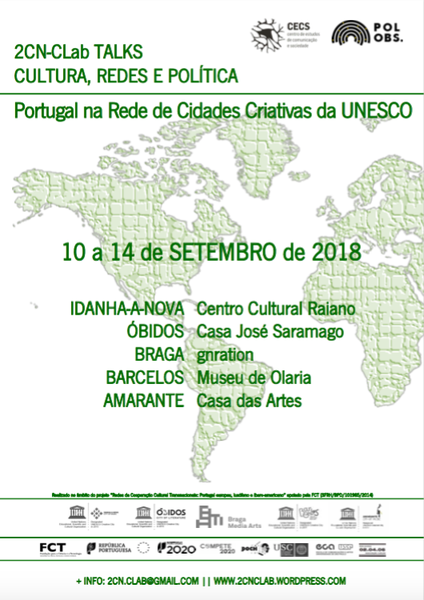 The UNESCO Creative Cities (UCCN) was created in 2004, but it was necessary to wait until 2015 for the first two Portuguese cities to be accepted as members. Taking into account that in 2017 three other Portuguese cities were part of the UCCN (one of them, Braga), it is thought to be urgent to reflect strategically on the national presence in the UCCN and on the impact of this presence on cities and professionals in the cultural and creative sector Portuguese. Aware of this need, the five cities that make up the UCCN have teamed up with the project team to promote the 2CN-CLab Talks cycle "Culture, Networks and Politics: Portugal in Creative Cities Networks of UNESCO", which will take place in the five municipalities for a week.
The schedule of meetings is as follows:
- September 10, 2018, 3:00 p.m. || Idanha-a-Nova;
- September 11, 2018, 3:00 pm || Óbidos;
- September 12, 2018, 3:00 p.m. || Braga (gnration);
- September 13, 2018, 3:00 p.m. || Barcelos;
- September 14, 2018, 3:00 p.m. || Amarante.
Further information on the actions taken and to be carried out can be found on the 2CN-CLab website or the POLOBs website.