Open Call: Changsha Media Arts Residency Programme 2019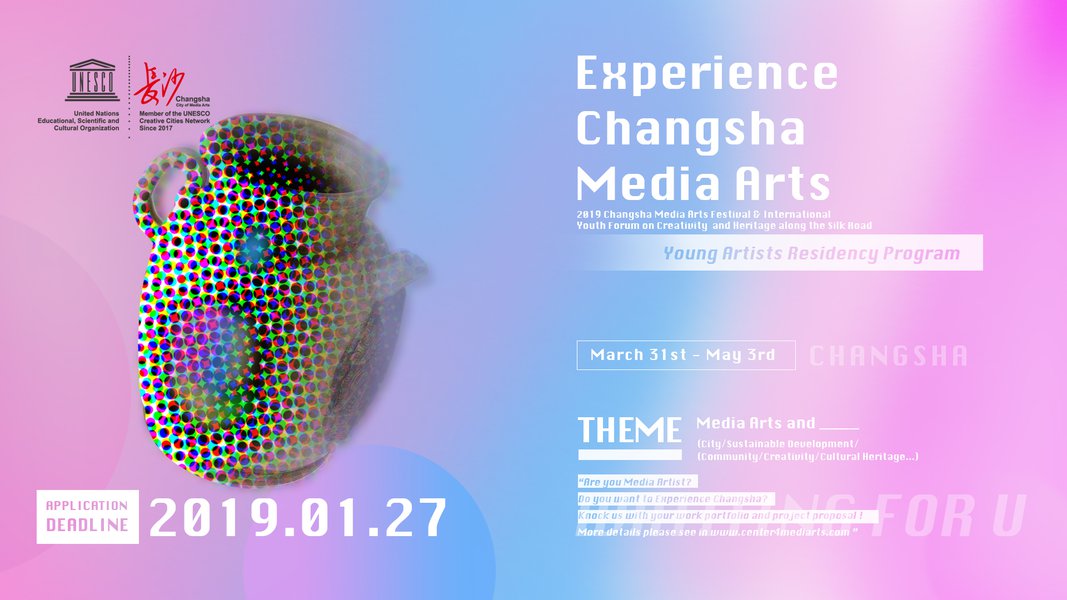 Experience Changsha Media Arts Residency Programme, as part of Changsha Media Arts Festival & International Youth Forum on Creativity and Heritage along the Silk Road, is organized by Changsha Municipal People's Government, with the support of UNESCO Beijing Office. The 2019 Residency Programme will last for one month, from 31 March to 3 May 2019 inclusive.
They invite qualified young artists, artistic entrepreneurs from UNESCO Media Arts cities, aged 18 to 35 with at least 2 years of work experience as well as distinguished students with formal training in Media Arts and Design to join the Program. Artists are invited to create media arts installations, media arts architecture, new media works, videos, public art, performance and works in other forms under the theme of: "Media Arts and _____(City/Sustainable Development/Community/Creativity/Cultural Heritage...)".

The Experience Changsha Media Arts Programme aims to provide an opportunity for young artists to delve deeper into Changsha culture by:
- visiting Changsha's cultural landscape; and,
- experiencing Changsha's intangible cultural heritage (pottery making, paper-cutting, etc).
Young artists will obtain a deeper knowledge about Changsha's media arts development by:
- visiting representative media arts enterprises in Changsha through organized field trips; and,
- undertaking in-depth cultural exchanges and technical discussions with local entrepreneurs and artists.
Above all, young artists will realize their artistic ideas by:
- Bringing about an innovative transformation in a traditional community in Changsha; and,
- Modernizing intangible cultural heritage through media arts means;
Participants' work will be showcased in the upcoming Changsha Media Arts Park and even be industrialized.

Selected applicants will be hosted by the Changsha Development Center of Media Arts for the duration of the Experience. Air tickets, accommodation, meals, basic health coverage, and pocket money (2000RMB) will be provided by the Changsha Development Center of Media Arts.

How to apply:
To apply, please download and read the residency introduction and follow the instructions on the application process.